Game 6-7 Recap
Thomas leads The Cogs/Miller Financial to 21-2 win over CountryBoy
Thursday was a great day for Felix Thomas, as he hit two home runs to carry The Cogs to a 21-2 victory over CountryBoy at two in five innings.
Twenty runs in the opening three innings allowed The Cogs to easily put away CountryBoy. A three-run home run by Mike Webster and a two-run home run by Thomas during the first inning and an RBI double by Jon Nebesnik, a two-run single by Dave Moxley, a two-run double by Webster, an RBI single by James Moretti, a two-run home run by Thomas, and a sacrifice fly by Clint Mathewson in the second inning fueled The Cogs' offense early.
The Cogs hit five home runs in the win. Additional home runs for The Cogs came when Nate Miller homered in the third inning and Devon Pruitt homered in the fourth inning.
Thomas recorded the win for The Cogs. He pitched four shutout innings. He struck out one, walked two and surrendered one hit.
The Cogs easily handled CountryBoy pitching as seven hitters combined for 16 hits, 18 RBIs and 17 runs scored.
"Powered by
Narrative Sc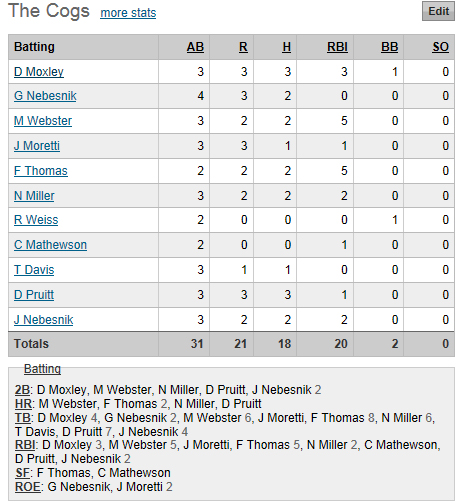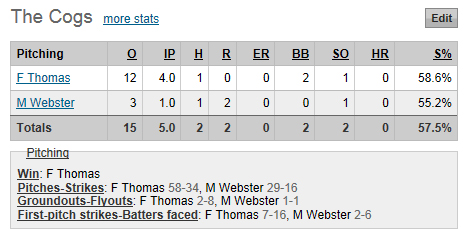 \