5/31 Box and Recap
The Cogs/Miller Fiancial best Fuzzy Dogs in shootout, 14-8
Fans were treated to a high-scoring affair Thursday as The Cogs outscored Fuzzy Dogs 14-8 in seven innings.
The teams banged out 25 hits hits between them, as well as 10 for extra bases.
The Cogs left no doubt in the outcome with five runs in the seventh.
The Cogs hit four home runs in the win. Home runs for The Cogs came when Clint Mathewson homered in the fourth inning, Felix Thomas homered in the sixth inning, Mike Lawson homered in the sixth inning, and Nate Miller homered in the seventh inning.
Mike Webster recorded the win for The Cogs even though he allowed eight runs over seven innings. Webster struck out eight, walked two and gave up eight hits.
The Cogs easily handled Fuzzy Dogs pitching as six hitters combined for 11 hits, 12 RBIs and 10 runs scored.
"Powered by Narrative Science and GameChanger.  C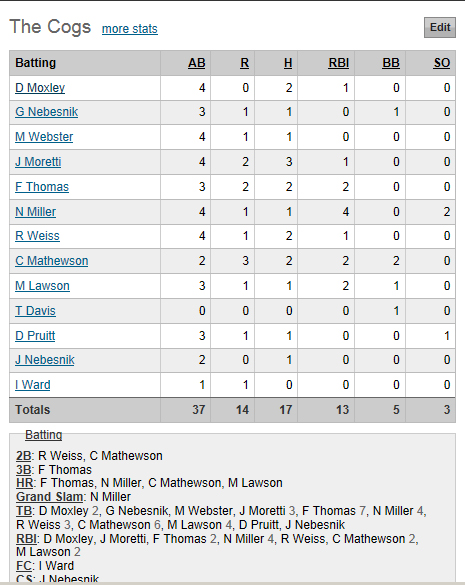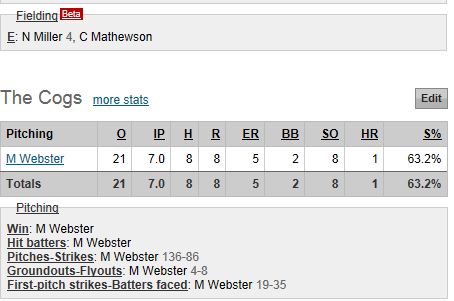 opyright 2012.  All rights reserved." Any reuse or republication of this story must include the preceding attribution.